Abril Franco Reyes | Extreme Iron Pro Gym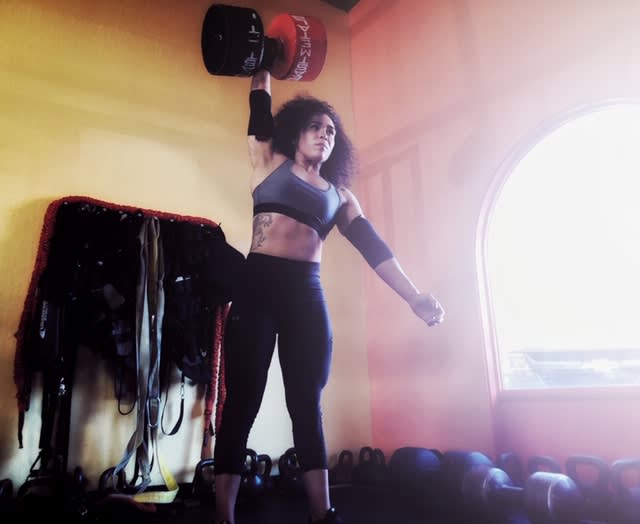 Abril Franco Reyes
Abril Franco-Reyes B.S., NDTR
Nutritionist | Strength Coach
Email: afranco@unifynutrition.org
Phone: 845-559-9634
IG: @toughtortillas
About
Abril received her Bachelor of Science degree in Nutrition and Dietetics from the University of Nevada Reno. She holds the advanced title of Nutrition Dietetic Technician Registered which allows her to formerly educate on matters of nutrition and health.
Her career in strength sports began in 2012 after picking up her first barbell in a small powerlifting gym located in upstate New York. Her tenacity, clinical background and knowledge of Anatomy & Physiology allowed her to excel as a strength athlete. Her current strength pursuits lie in the realm of Strongman and Powerlifting.
Client Expectations
Abril understands the responsibility that comes with being and educator. Her platform resides in upholding scientific principles and relaying evidence based information with practical application.
The benefits of strength training are numerous. Coordinated with proper nutrition, you can expect improvements in all aspects of health.
The coach and client work together as an established partnership. Clear and honest communication must occur throughout the training process.
Coaching structure depends on the goals and knowledge of the client.
Individuals new to strength training will undergo a preliminary movement assessment.
Progression is based on the demonstrated proficiency of fundamental movements which are the Squat, Bench, Deadlift and Overhead Press.
Sport specific training will vary.
FAQs
What are your rates for 1:1 Nutrition Coaching?
The service requires a separate commitment and a mandatory 60 minute consultation.
Please contact me directly to discuss the details or visit my website: https://www.abrilfrancoreyes.com/
What are your rates for 1:1 strength training?
Your 30 minute consultation is free!
Single Session 1:1 (60 minutes)
$55.00
4-Sessions 1:1 (60 min/session)
$50.00 per 60 minute session/ $200.00 due before scheduling.
Buddy Discounts
Friends and couples can take advantage of this option.
Single 1:1 (60 minutes)
$85.00
4-Sessions 1:1 (60 min/session)
$75.00 per 60 minute session/$300.00 due before scheduling.
Payment is due at time of service via Cash or Credit Card, No Exceptions.
24 Hour notice is required for cancelation.
Failure to cancel within the specified time frame will incur a $25.00 penalty fee at next time of service.